Biography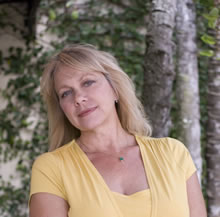 Karen Benjey was born in Toledo Ohio. Introduced at an early age to stride piano by her mother, Karen says, "I knew from age three that I would become a singer. My mother's playing was a very strong influence on me. During the period I was growing up. there was music all around me. I was also very influenced by my own era of pop music, the black soul and R & B artists of nearby Detroit."
Upon relocating to the Tampa Bay area in the late '80's she met and collaborated with the great pianist, Kenny Drew jr. for her debut album, PAPER MOON.
After a decade of touring  Japan and Europe and returning once again to Florida, the album ALL OF YOU was born, released in early 2008.
On "All Of You", Karen reaches into the history of jazz and extracts her own deeply felt emotional interpretation, bringing both delicate nuance and powerful emotional vulnerability to these brilliant classics.  Karen's intuitive vocal talent combines with her innate sense of timing, allowing her to creatively manipulate pace and style to make "America's Popular Songbook" all her own.